famiLEE LEEgime's Imbecilic Legislation RE-PROVEN in Court 24 today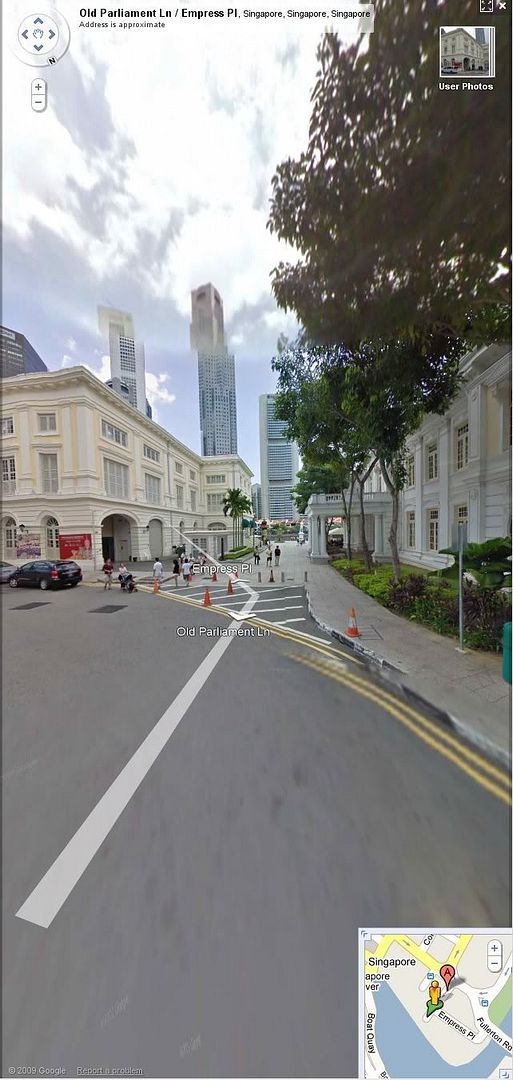 Click here for Google Map Street View
The defense lawyers of the TBT 18 had during last year's trial exposed in court that the famiLEE LEEgime's legislation -
the Schedule to the Miscellaneous Offences (Public Order and Nuisance)(Prohibition of Assemblies and Processions - Parliament and Supreme Court) Order
is erroneous in that an invalid and outdated street name of Parliament Lane was incorrectly used instead of the current name of Old Parliament Lane.
The Schedule
Description of Area

Commencing from a point at the junction of North Bridge Road with Colemen Street, thence along Colemen Street to it's junction with St. Andrew's Road, thence along St. Andrew's Road to it junction with Stamford Road, thence along Stamford Road to it's junction with Connaught Drive, thence along Connaught Driver to it's junction with

Parliament Lane

, thrence

along Parliament Lane to the left bank of Singapore River

, proceeding along the left bank to the junction of North Bridge Road, thence along North Bridge Road to the point of commencement at the junction of North Bridge road with Colemen Street.



Made this 22nd day of July 2005. Benny Lim second permanent secretary, ministry of home affairs, Singapore.



Since that discovery, the famiLEE LEEgime's Imbecilic legislators had quickly made the corresponding amendment to the above defective description of area. This fix is something that was also brought up in the court last year.
This is scandalous and ironical enough already.
But not over yet!
I proved in court 24 yet again today that the Imbecilic Legislator of famiLEE LEEgime had still made invalid and useless legislation which they had tried to
charge
us with. And even after fixing what had been already found broken, IT IS STILL BROKEN TODAY, as it stands!
Because my evidence photo from Google Map Street View proved that neither Parliament Lane nor Old Parliament Lane still connects to bank of Singapore River any more!
What is currently called the Old Parliament Lane, ends at it own junction with Empress Place. The portion of it which originally connected it to the Raffles Landing Site (statue of Raffles) is no longer a road, but a pedestrian walkway as it is, as well as it was on 15.March.2008 during
Tak Boleh Tahan @ Parliament
.
This removed section actually locates right in between the Empress Place Building (housing Asian Civilization Museum) and the Art House At The Old Parliament.
This disconnected segment of the boundary definition leaves a huge opened gap with is large enough to fit the Empress Place Building which houses Asian Civilization Museum! Therefore this discontinuity hence caused NO AREA (size = 0) to be defined within, and hence the area in which procession and assembly is prohibited is thus NULL & VOID.
Then there is no legal basis to convict any one relying on this improperly defined area.
I would like to point out that, the legislating Parliament itself was the one initiating the change of street name in 1999, according to evidence heard in court recently, to re-name a section of High Street into Parliament Lane, causing Ministry of Finance to also re-name this Parliament Lane into Old Parliament Lane for so called Historic Reasons. But then these Imbecilic legislators within the Parliament can use it wrongly to make law, which is used to prosecute the activists!
I would also like to point out that this legislation is indeed something made by the Parliament it self in the objective to protect itself and the Supreme Court from protesting activists! And yet they are Imbecilic enough to Repeatedly blunder this self-protecting legislation!
Who can then trust them to make legislations that can be expected to protect and serve the citizens of Singapore when these moron had failed repeatedly to make some law to protect themselves!?
:-)
Sammyboy.com Thread
View Larger Map
Labels: Tak Boleh Tahan